Would you like to learn how to prepare quality natural diets?
Do you want to hire a veterinarian who has been helping people who want to improve the nutrition of their dogs or cats for more than 20 years?
If you answered yes to either question, you've come to the right place..
My name is Carlos Alberto Gutiérrez, I am a veterinarian specialized in dog nutrition and my goal is to help you have a dog that enjoys eating healthy.

Learn how to prepare healthy natural diets
and with all the nutrients
All this knowledge is here:
More than 300 articles published on various topics, with tips and tricks
One hundred informative and practical videos that will solve many doubts.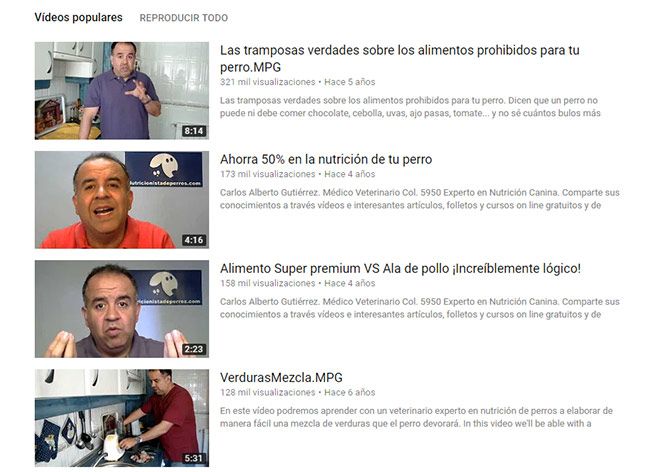 I have more than 10 books and manuals published, I have tried to put my knowledge and experience as a veterinary nutritionist, both with healthy and sick dogs.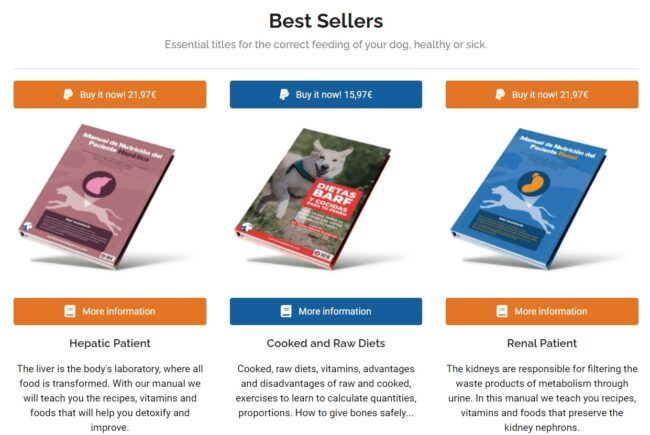 Online Nutrition Training
Want to get straight to the point?
Learn how to prepare natural diets quickly, easily and simply.

Leave doubts and fears aside, because I will take you by the hand until the end of the road.
Seeing your dog's happy face is priceless.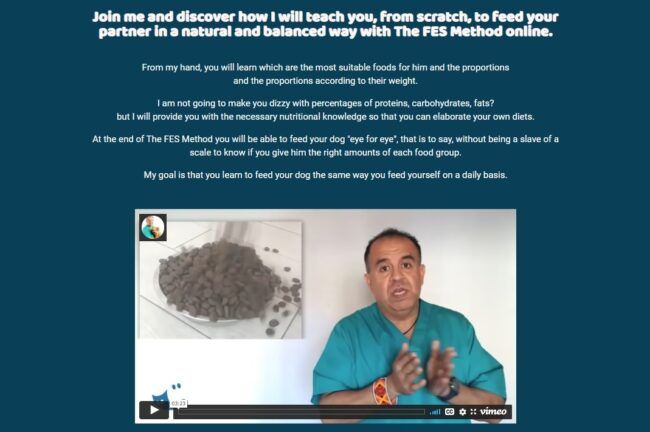 Nutrition Clasroom Course
Once or twice a year I teach this course in different cities around the world, to teach you how to prepare quality natural diets.
It is eminently practical and very entertaining.
If you are interested, you can sign up for the waiting list.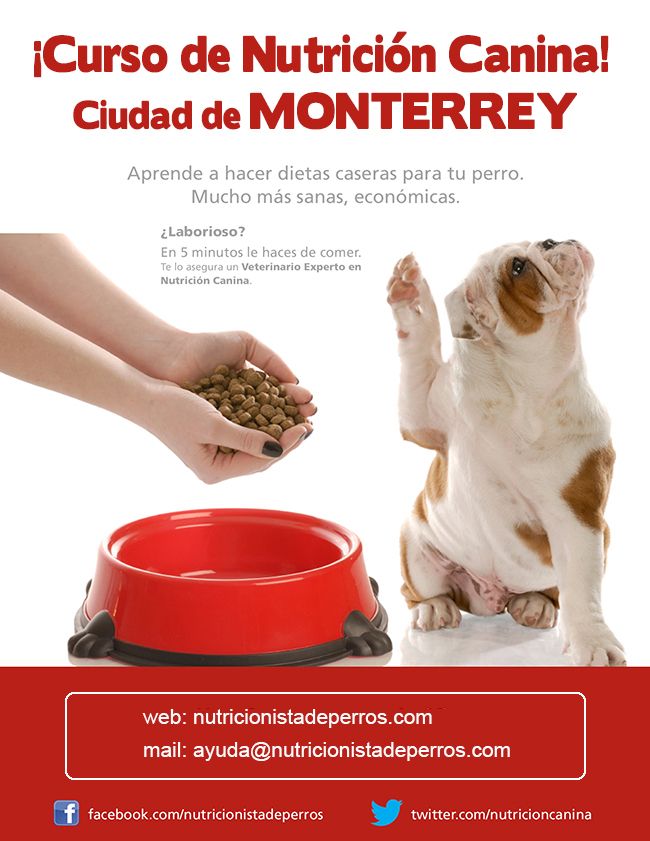 Hire me as a nutritionist
I offer personalized nutritional counseling services for dogs and cats, healthy or sick, adults or puppies.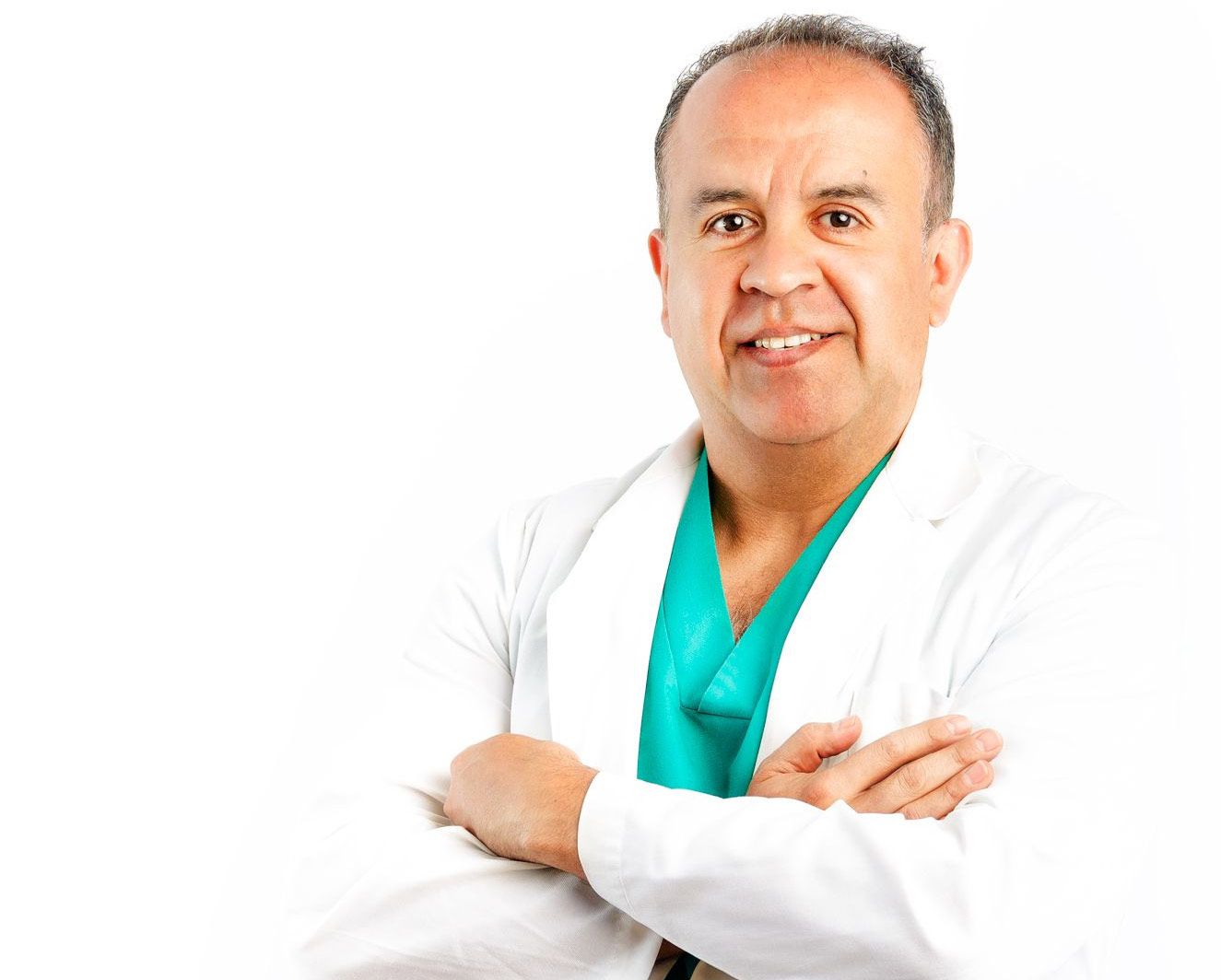 Carlos, can you tell me what led you to create this blog?
Back in 2013, I decided to professionalize my passion. It was the only way to reach thousands of people to open their eyes to the brutal amount of advertising campaigns of the pet food industry, with the sole purpose of making dog and cat owners believe that the best thing they can eat is their synthetic food.
Until then I worked in clinics and saw the enormous benefits of natural diets versus animal feed. However, the owners of the clinics forced me to sell the feed they marketed. It hurt me very much to see the poor dogs begging their owners for some of their food, and the owner convinced to only give them dry pellets, because it was "the best" for the animal and what his veterinarian recommended.
Very soon I realized that animals were money making machines, that their health mattered little, "a mighty gentleman is a gentleman's money".
Until, with this blog, I found a way to be independent, to open people's eyes to see how serious, cruel and unhealthy it was to feed dogs and cats like this.
I found my mission.
"I didn't see it as normal that Benito, a 2-month-old puppy, would only eat kibble and only half a cup of that food in the morning and evening. I searched the internet and found you and your team. I loved the course and have taken it twice".
Denisse Moros, Nicole and Kalila
"I wanted to feed my girls natural food, when I suggested it, the vets told me I was crazy, that they were going to get sick... Sick? Three of them have already died! I found Carlos, it was totally worth it, my dogs are different.
"The difference in money by cooking my dog a diet suitable for her liver disease at home is quite a big saving, at least 50%. Time to prepare her food? One minute! My dog is happy and waiting for her food".
"With the natural diet you prescribed, Eros is doing very well. He was a digestive patient and the diarrhoea has stopped. In our eagerness to look after him, we have spent a lot of money on feed that is not worth it, it's just not necessary".
"The saving of money by giving natural diet is 50-60%. In terms of daily food preparation time, it's 3-4 minutes, no more. The puppy is doing great, we have only taken him to the vet once for a vaccination".
"She was draining with bloody diarrhoea" spending thousands of dollars, on specialists who did everything except nutrition, when we gave specific diets and orthomolecular diets, the change was spectacular and only in 3 days.
"I did what the vets tell you to do, give a good brand of feed, he started with gastric problems which ended in pancreatitis and he almost died. I found you on the internet. Investing in the course has saved me a lot of trouble, it's been very helpful." Translation coming soon.
"Pau had osteosarcoma in his paw and it had to be amputated. He underwent chemo and coped very well with it, thanks to the protocol and the natural diet you prescribed me. The changes were very noticeable and no more than 3 chemo sessions were necessary". Translation coming soon. 
"I found the course on the internet and I loved it because of the simplicity with which you can make a diet for a dog or cat. I suspected that what I was taught at university about dog nutrition was not the healthiest thing to do, it was just food". Translation coming soon.
"Anuk has dropped from 14 and a half kilos to 10 kilos (30%). The course has opened my eyes, it has given me security and peace of mind, apart from the tips you give: how to combine foods, the difference between protein and viscera, now I know what I do". Translation coming soon.
"Carlitos is a dog that has had two operations for oxalate stones. His vet told me to feed him only food. I didn't agree so I came to you for a diet. It has been a great success. There is no trace of oxalate now." Translation coming soon.
Jimena, Luna, Laila and Max
"The FES Method has been an investment. What a sack of food cost me for one of my dogs is what I now spend on food for all three of them. After giving them a natural diet they have rejuvenated, especially Luna, who has hypothyroidism". Translation coming soon.
"Feeding my puppy natural food has been super easy. He has grown without any problems and has a significant musculature. Compared to his siblings he is much bigger and better developed." Translation coming soon.
"I have two Bullmastiffs. I spend about 40 minutes on Sundays making their food and portioning it out. The quality of the food they get is top notch, I know 100% that they are well fed. I save 30 to 40% money with the natural diet." Translation coming soon. 
"All the vets told me to just give him kibble, because it gives him all the nutrients he needs and at the same time fights overweight, so how come he is anaemic and overweight at the same time?" Translation coming soon. 
"It takes me about an hour a week to prepare my dog's food. I used to worry a lot about portions, now I know how much food to give him per day and I do it on an eye-for-an-eye basis. I've saved a lot of money compared to feed. Translation coming soon.
"I have 3 large dogs and it takes me no more than 5-6 minutes to prepare their food portions. I have saved 45% money with the natural diet. In half a year I have recouped the investment of the course. My dogs' spirits have changed. Translation coming soon.
"My dog has suffered several episodes of hepatitis and I adapt the diet to her illness. It has saved me money compared to a "medium-high" range feed and I show this to my clients in the clinic". Translation coming soon.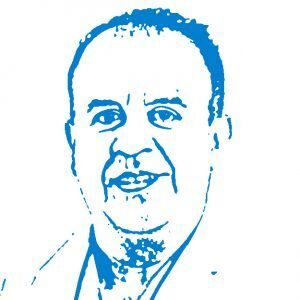 And now... who is Carlos Gutiérrez?
I was born forty-something years ago in Mexico City (I am a chilango, with great honor) and my full name is Carlos Alberto (my father, passionate about soccer, wanted me to be named after the Brazilian player Carlos Alberto Torres, captain of the Brazilian national team and who scored the goal that gave Brazil the victory against Italy in the World Cup in Mexico in 1970).
I studied veterinary medicine at the UNAM (National Autonomous University of Mexico) !Puma by heart and profession! and after finishing my career, I worked at the Clinical Hospital of Small Species of this University, as a clinical nutrition consultant, and it was there when the processed food industry signed me: I collaborated with Purina, Hills, Iams, Malta Cleyton (Ganador) training their staff on nutritional issues, in addition to giving advice and lectures. Here is the proof.
I have made stays abroad, the one that has marked me the most was the one made with Dr. Stephen Ettinger in Los Angeles USA. Any veterinarian who has been dedicated to dogs and cats and who boasts of being one knows him and has read his book on internal medicine, I learned what is not said; as I spoke very good French, every morning he would talk to me to practice the little I had learned.
Yes, I know how to formulate my feed (pellets, croquettes), I know his production processes inside out, but... do you want to continue talking about this?
I'd better tell you how I got here and what kind of person I am.
I have had a passion for animals since I was a child. In my house we always had dogs and cats and, from a very young age, they were my playmates. Pot and Oso were the first ones that were with me. They were stray dogs and my family adopted them. They became the most faithful and loyal friends in my childhood.
Then came the Betta fish. You know how difficult it is to breed them in captivity? Well, I did it. I set up my own aquarium when I was 10 years old and my aunt Lupe was the first one who gave me one of these fish. Then I bought more and more, until I managed to breed them, quite an achievement because it is very difficult to get these fish, which hatch from eggs, to do so in a fish tank.
And living surrounded by animals, my vocation could not be other than veterinary medicine..., but I did not always dedicate myself to it.
I'm not going to give you a lot of data. I prefer that you get an idea of who I am and how I am through these curiosities, which have nothing to do with my profession:
I am rebellious by nature and for a while I got away from this world. I worked as a tour guide (I still remember the bus trips to Acapulco), as a bartender, I was a transporter, a clothing salesman in Los Angeles, I sold advertising in a magazine in Madrid... and other things that you can't even imagine.
I am proudly "Puma". The Pumas of the UNAM is the soccer team of my love and any occasion is good to wear their jersey. Ah! In case you don't know, that's where Hugo Sanchez studied and started playing.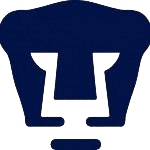 I am passionate about literature in general and the history of Mexico in particular. If I had not been a veterinarian, I would be a writer. I have two novels finished and will soon get them published.
I love languages. I am bilingual in English and speak French and Portuguese quite fluently.
I am in love with Madrid. I've lived here for 15 years and I still remember the day I got out of the Metro for the first time in Gran Via. I was left with my mouth open.
I am in love with art and I have become a member of the Prado Museum. If you go there, I'm sure you'll find me visiting an exhibition.
And, of course, the dogs continue to accompany me. Luna, Diana and Hope are my four-legged children and if you want to meet them, visit the web.
Do you want me to help with your doggy feeding?
When the Man woke up, he said: What is that wild dog doing there? And the woman said: He is no longer called Wild Dog, but the first friend, because he will be our friend forever, forever, forever.
 Rudyard Kipling
Saludogs