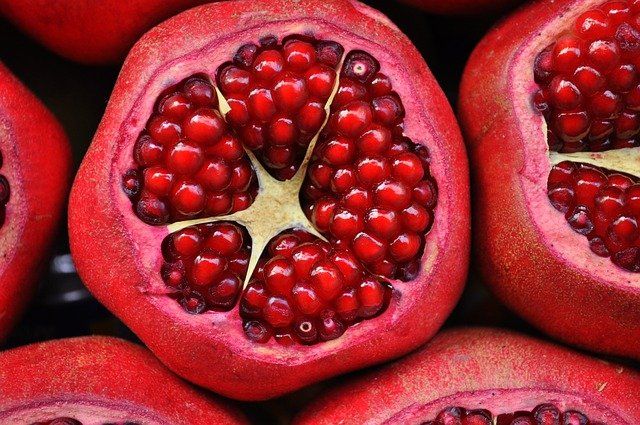 I remember, some time ago, reading some interesting studies on fertility, testosterone levels, and weight reduction among men. One factor that positively affected these levels was the intake of red fruits, including pomegranate, for its antioxidant effects.
An increasingly common disease I observe in dogs is heart disease. I have no doubt that this is related to poor nutrition (kibble), tartar and plaque build-up (kibble), lack of exercise, poor air quality, and the ever-worsening quality of life we all experience in large cities.
The importance of nutrition and exercise in the reduction of cardiovascular diseases, in dogs and humans, is now fully understood. As a rule, in addition to DIET with FRESH and NATURAL INGREDIENTS, I also give my heart patients supplements with antioxidants, which reduce oxidative stress, a crucial factor in heart disease.
There have been serious studies on the use of pomegranate and the benefits of its cytoprotective and antioxidant effects, and the prevention of heart damage. The Journal of Applied Research in Veterinary Medicine (Vol. 10 No. 2, 2012), for example, says the following:
"Pomegranate extract, by itself or mixed with other substances, possesses a strong and significant antioxidant and cytoprotective activity in canine endothelial cells."
Data from this and other published studies suggest that these natural substances may be of interest when developing a comprehensive nutritional strategy to reduce the onset and progression of canine disease-inducing oxidative stress and, perhaps more specifically, the endothelial degeneration associated with progressive valvular insufficiencies.
Many studies have shown the beneficial effect on human patients with heart disease who drink pomegranate juice, as well as a reduction of general heart disorders: hypercholesterolemia, coronary artery disease, hypertension…
I can give you some general advice to delay or avoid heart disease:
Exercise your dog.
Keep it slim. Remember, if you want a healthy dog ​​"keep him hungry, but not starving" and the same goes for you too!
Feed fresh, natural dog food that is suitable for dogs and fit for human consumption.
Omega-3s have been shown to be effective in preventing heart disease.
I recommend Coenzyme Q10 for sick dogs; it is expensive but well worth it.
Would you like personalized advice for your dog with a heart condition?
Please fill in the questionnaire in the Consultation section.
Regards